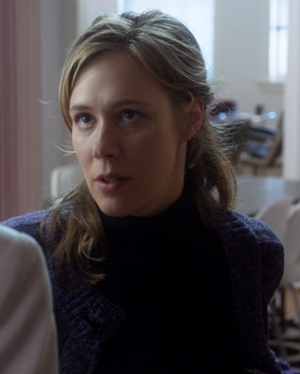 Amanda Tanner
(Liza Weil) was a hidden recurring villainess from
Scandal
's inaugural season.
Backstory
Edit
As revealed in the first season's penultimate episode, "The Trail," Amanda Tanner worked on the campaign for Sally Langston, who was running against then-Governor Fitz Grant in the Republican primary election, which took place two years before the series' events. It was during this time that Amanda began a relationship with Langston's Chief of Staff, Billy Chambers, who was working his best to make Langston the first-ever female POTUS. Chambers' ambition led him to record Fitz's extramarital tryst with his campaign aide (and series protagonist) Olivia Pope, and after getting the recording on a flash drive, he gave the recording to Amanda. As for Amanda, she was sent by Chambers to sleep with Fitz as part of his plan.
In the time that passed, Fitz won the Republican primary and became President, with running mate Langston becoming Vice President. Amanda made her first appearance in the series' pilot, "Sweet Baby," as she accused Fitz of having an affair with her; a claim that is rebuffed by Olivia, who later starts believing her story. The deceptive villainess continued her ruse during the season's progression, which included Amanda revealing that she was pregnant in episode 1.03, "Hell Hath No Fury." The evil Amanda used her genuine pregnancy to further the ruse, leaving Olivia and other to believe that Fitz was the baby's father.
In the following episode, "Enemy of the State," Amanda turned down a $10 million payout, as she planned to tell the world about her affair with the President. However, the episode ends with Amanda being assaulted and later killed by an unknown assailant, who was later revealed as Charlie (a former CIA agent), in episode 1.05, "Crash and Burn." That same episode also revealed that Fitz was not the father of Amanda's baby, and the aforementioned penultimate episode revealed (other than Amanda's backstory and her villainous role) that Chambers was the father. The end of the season finale, "Grant: For the People," revealed that Amanda's murder was masterminded by Fitz's Chief of Staff, Cyrus Beene, who paid Charlie to kill Amanda.
Community content is available under
CC-BY-SA
unless otherwise noted.