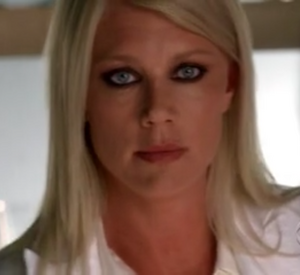 Amanda Calaveras
(Peta Wilson) is a villainess from "Sudden Death," the second episode of
CSI: Miami
's ninth season (airdate October 10, 2010). She is the owner of the Dorset Club, a nightclub which had Sarah Walker and Kristen Banks as waitresses (also known as "bottle girls); the latter of the two having been murdered.
Amanda was encountered by Horatio Caine regarding Kristen's death, as she had sent a text to Amanda stating that she was "not doing this anymore; it's not right." As the episode progressed, the meaning of Kristen's text was revealed, as both she and Sarah were ordered by Amanda to get close to celebrities and photograph them at their worst. Her callous plan was to sell the photographs to tabloids, which would not only make her lots of money, but gain business for her club. Kristen's mark was squeaky-clean quarterback Brady Jensen, but she eventually fell in love with him, hence her text to Amanda. After receiving the text, the evil Amanda ordered Sarah to photograph Kristen and Brady in a compromising position, which she reluctantly did.
Unbeknownst to Sarah and Amanda, the former's photograph was taken following Kristen's murder, and its publication led to Brady being a suspect. Amanda herself later became a suspect after Sarah revealed her villainous boss machinations to Horatio, who confronted the villainess at the club shortly afterwards. Amanda defended her greedy and cruel plans and boasted about her club's rising business, stating that there was standing room only for the next six months. After being ordered by Horatio to turn on the confetti machines, Amanda ended up being cleared in Kristen's murder, though her fate beyond that was never revealed.
Peta Wilson later played villainess Pope on The Finder.
Community content is available under
CC-BY-SA
unless otherwise noted.