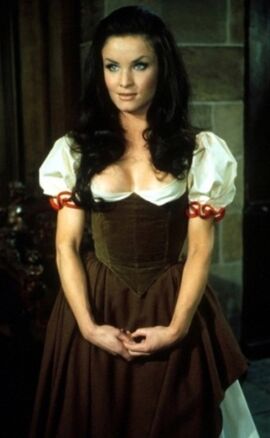 Alys (Kate O'Mara: 1939-2014) is the villainous handmaid in the 1970 Hammer Horror film, "Horror of Frankenstein".
Alys is the slutty, lusty handmaid/lover of the Baron Frankenstein (George Belbin), who dies in a shooting accident. When Viktor Frankenstein, the son, inherits the title and castle, he takes and expects certain liberties of Alys to continue. This includes having Alys continue certain housekeeping activities such as personal bedwarmer. Alys possess quite impressive "talents", which threaten to spill completely out over the top of her costumes.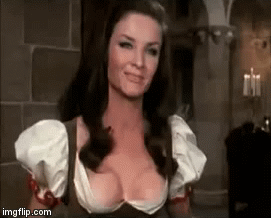 Later Viktor takes a special rekindling of emotions and attractions to Elizabeth Heiss (Veronica Carlson), who he was a former schoolmate with. As a result, Frankenstein grows tired of the promiscuous Alys. She threatens to blackmail Frankenstein by exposing his creation of the Monster (David Prowse). As a result of her conniving, Frankenstein throws her into the dungeon with the monster, who in turn kills her.
Kate O'Mara earlier appeared as the henchwoman Lisa in the 1969 episode "Stay Tuned" in the TV series "The Avengers".
Kate O'Mara appeared later on stage in 1971 as Madame Gerda in the adaptation of the classic British TV series "The Avengers: Stage Play".
Kate O'Mara appeared as The Rani in the British science fiction TV series "Doctor Who".  Her character appeared in 1985 and again in 1993.
Kate O'Mara appeared as one of five actresses who played Mrs Elizabeth Peacock in the classic '90s game show 'Cluedo'. She played the part in the Christmas Special.
Kate O'Mara appeared as the evil Lady Isabelle in the 1997 episode "Marin to the Rescue" for the action adventure TV series "The New Adventures of Robin Hood".
Community content is available under
CC-BY-SA
unless otherwise noted.