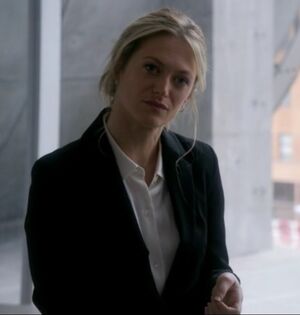 Alta Von See (Marin Ireland) is the main villainess from "Evidence of Things Not Seen," the second episode of Elementary's fourth season (airdate November 12, 2015). She is a scientist at DARPA, and was actually the next in line for the head position, held by Samuel Meher.
Looking to climb the corporate ladder, Alta invaded a lab test and killed scientists Gail Sarkisian and Frank Weller, as well as test subject and grad student Ollie Tate. She used a sonic-pressure shield to debilitate her intended victims before shooting and killing them. Alta's murderous plan was to cause a scandal at DARPA which would result in Meher being ousted; however, there was a fourth victim--in the form of Weller's lab rat, which died due to asphyxiation. As shown in the flashback, Alta was standing properly while committing the murders, but she was using a cane on her right side--assuming that the shield's affects slightly damaged her. Alta was subsequently arrested for the murders.
Marin Ireland also appeared on Unforgettable as the villainous Sarah Green.
Community content is available under
CC-BY-SA
unless otherwise noted.