Wiki Targeted (Entertainment)
Play Sound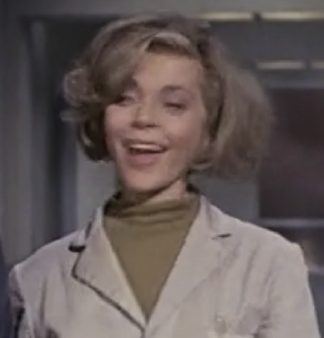 Alma Sutton, played by Barbara Bain, was a KAOS agent who appeared in the Get Smart episode KAOS in CONTROL (Season One, 1965). She infiltrated CONTROL HQ, working as an assistant to Professor Windish in their laboratory. She attempted to disrupt an important conference that was to be held in the building.
The CONTROL laboratory had developed a special ray gun, the electro-retrogressor that reduced its victims to a child like state for a short period of time. When CONTROL staff begin acting childish, it becomes apparent that the electro-retrogressor has been stolen. Maxwell Smart finds Alma with her heels kicked off, skipping in her stocking feet. At first he assumes she has been affected, but when he she says she wants to watch "Captain Kangaroo", she gives herself away as a fake. A fan of that show himself, Smart deduces that the program had not been made at the time that Alma was a child. She is apprehended by Smart and in the process ends up getting zapped by the electro-retrogressor for real.
Smart tells Alma "Little girls like you belong in jail." She replies "I'll let you take me there if we can skip." The two skip together down the corridor on the way to the cells.
Trivia
Barbara Bain appeared as Madge Slausen in the 1959 episode "Fiddle Dee Dead" for the TV series "State Trooper".
Barbara Bain is best known for her roles as Cinnamon Carter in the TV series Mission Impossible (1966-69) and Dr. Helena Russell in the TV series Space 1999 (1975-77).
Gallery