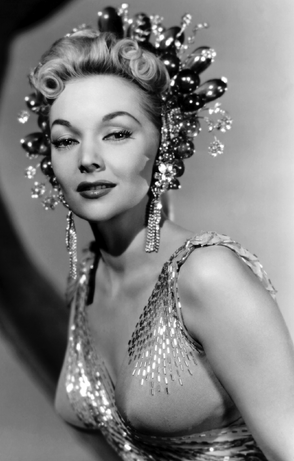 Allura
(Mari Blanchard) is the main antagonist in the 1953 comedy film
Abbott and Costello Go to Mars
.
Lester (Bud Abbott) and Orville (Lou Costello) are two maintenance men who accidentally blast off in an experimental rocket intended for Mars.  However, they mistakenly land in New Orleans, where they think they have reached the destination due to the Mardi Gras costumes.  Two bank robbers, Mugsy (Horace McMahon) and Harry (Jack Kruschen), then stowaway aboard the ship and a second lift-off takes Lester and Orville to Venus.
It is here in Venus that they are greeted with a planet inhabited by nothing but gorgeous women.  All men were long ago defeated in a war with the females, but some of the girls miss them badly.  Lester and Orville are captured by female guards and are brought to Queen Allura.  Allura, is strangely attracted to Orville, and she decides that he can stay if he promises to be true to her.  It seems that Allura is not only bossy, but extremely jealous.  He agrees and has the two bank robbers imprisoned for their crimes.  Allura attempts to make Orville her king.  To make sure that he will pass this test, he gives Orville three balloons.  If he thinks about another woman, one will pop.  
However, Mugsy convinces one of the female guards to flirt with Orville to prove to Queen Allura that he cannot be trusted since he isn't a "one woman man". Orville takes the bati, and the balloons all pop.  He then fails a lie detector test as well, and the Queen orders all the men to leave Venus.
Allura also orders that any girl who kisses a man will immediately lose the gift of immortality and eternal youth.  One of the girls violates this decree, and immediatly changes into a 400 year old woman.
Upon returning to Earth, Lester and Orville are lauded as heroes, and Allura, who is watching the celebration from Venus, sends a spaceship to Earth that drops a cake on Orville's head.
The films glamourous women from the planet Venus was populated by a number of Miss Universe contestants and other bathing beauties including Anita Ekberg.
Mari Blanchard appeared as the snobby dance hall singer Brandy, who gets into a saloon catfight in the 1954 film, "Destry".
Mari Blanchard appeared as Jean Montoya in the 1958 film "Machete".
Mari Blanchard played the villainess Miss Grey on the 1960 "Mr Lucky" episode "I bet your lfe".
Mari Blanchard appeared as Camille Reedbottom in the 1963 movie "McLintock!".
Community content is available under
CC-BY-SA
unless otherwise noted.