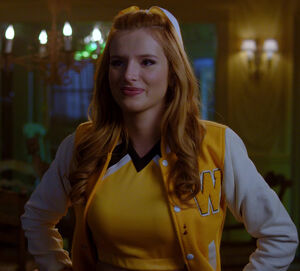 Allison (Bella Thorne) is a villainess in Netflix's 2017 horror-comedy The Babysitter.
The story is about a young boy named Cole (Judah Lewis), who discovers that his babysitter Bee (Samara Weaving), who he has a crush on, is part of a cult that originally planned to kill him. However Bee loves Cole so much she abandons that plan and instead tries to get Cole to join them.
Allison is the dim-witted, impish, frivolous, and very lively and cheerful best friend of Bee, although the two are shown to be more than friends in a sultry kissing scene. The redhead spends the time in the film walking around in her skimpy cheerleader outfit. She turns out to be psychotic and like all the other members of her cult, cruel, chaotic, ritualistic, remorseless, dangerous, and very sadistic.
Allison is shot by a policeman, and exclaims "Oh my God, he shot me in the boob". She sobs on the ground while her unsympathetic friends offer no support. We hear Allison make comments such as "Now who is going to want to motor boat my breats", and "Who is going to want to suck on my nipples?"
Later before she corners Cole in the kitchen with a sharp knife, she tolds him her dream job is to become a Journalist, and is just about to go in for the kill. However, Bee shoots her with a shotgun from behind, and her head is blown off of her body.
Bella Thorne's other villainous roles consist of Madison Morgan from 

The DUFF

 and Jolie from the Disney Channel show 

K.C. Undercover

.
Bella Thorne additionaly portrayed psychotic stalker Holly Viola from the film 

You Get Me

 and appeared on 

CSI: Crime Scene Investigation 

as bully Hannah Hunt.
Bella Thorne also played a bully in MTV's Scream as Nina Patterson.
Community content is available under
CC-BY-SA
unless otherwise noted.