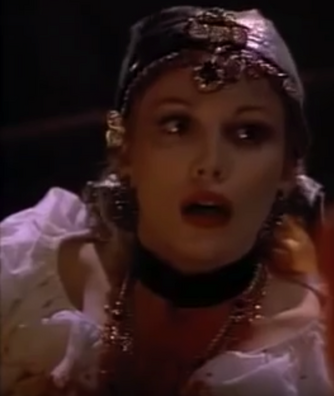 Alison Peters
(Cathy Moriarty) is a villainess in the 1992 episode "Seance" for the TV series "
Tales From the Crypt
".
Alison and her whimpy partner Benny Polosky (Ben Cross) are cheap cons who have set up an elaborate plan to con $300,000 out of a rich businessman Prescot Chalmers (John Vernon).
First they tell him that a dead relative of Chalmers pulled off a bank robbery several years back, and the money was kept from the police and courts finding out about it.  Alison posed as his long lost kissing cousin, who would inherit the money together with him.  Alison and Chalmers agreed to meet at her hotel room, and Benny hid in the closet taking blackmail pictures of them having sex.
The next day at Polosky's law office, Benny accidentally hummed a song that he would have only known if he had been in the hotel room also.  Chalmers figured out the blackmail plan and despite the photos, he left with the money.
However, Chalmers is met with a freak accident, when he falls down an elevator shaft and is crushed by the elevator that drops on top of him.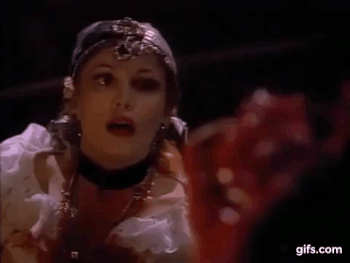 Not wanting to leave empty handed Alison speaks to his widow Dorothy (Ellen Crawford) who says she is planning to speak with her deceased husband at a seance that evening with Madame Leona (Lupe Ontiveros).  Therefore, Alison decides to fix the seance and make Chalmers widow part with the cash.  She knocks out Madame Leona and fills in for her, since Dorothy is blind and can't tell the difference.
However, when Benny is to appear as Prescot Chalmers, Chalmers appears in his rightful place.  He presents a suitcase full of cash along with Benny's head on the table.  Then he reaches into Alison's chest and rips out her still beating heart.
Cathy Moriarty appeared as Montana Moorehead in the 1991 comedy film, "Soapdish".
Cathy Moriarty appeared as Carrigan Crittenden in the 1995 family film "Casper".
Cathy Moriarty appeared as Denise Eldridge in the 2005 episode "Intoxicated" for the TV series "Law & Order: Specil Victims Unit".
Community content is available under
CC-BY-SA
unless otherwise noted.