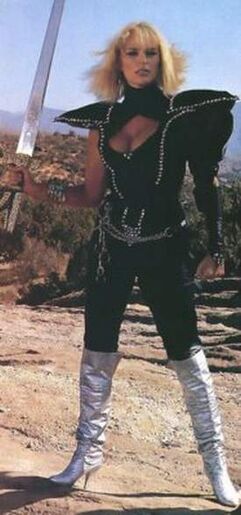 Alien Queen (Sybil Danning) is the main antagonist in the 1989 film, "The Phantom Empire".
The film has Denae Chambers (Susan Stokley) who hires Cort Eastman (Ross Hagen) and his female sidekick Eddy Colchilde (Dawn Wildsmith) to help locate a rumored lost world in the center of the earth that might have tons of priceless jewels.
The Alien Queen shows up aboard a space ship of Amazons.  She is dressed in black leather with big shoulder pads and a cut out for her rather large cleavage.  She rules the cave like world, and has the use of a giant robot.
In one scene of the film, the Alien Queen throws a spear at a stop-action dinosaur, killing it.  Michelle Baur appears as one of the bikini-clad "cave bunnies" that the Queen is in charge of.
At the end of the film, the team of adventurers escape her grasp and take off in her spaceship.  The Alien Queen goes back into the cave, where there is a large explosion.  It appears to kill the Alien Queen and her and her minions.  However, in the last scene, the monsters approach her and she has survived.  She draws her sword and snarls at the monsters saying "Now you're gonna be sorry".
Sybil Danning appeared as Brenda in the 1980 Italian detective thriller "Day of the Cobra".
Sybil Danning earlier appeard as the evil sorceress Ariadne , in the 1983 Italian adventure film, "Hercules".
Sybil Danning appeared as Angel in the 1984 action film "Jungle Warriors".
Sybil Danning appeared as Mary Kruger in the 1984 episode "Visitor's Choice" for the TV series "V".
Sybil Danning later appeared as Stirba , the main villainess from the 1985 film, "Howling II: Your Sister is a Werewolf".
Sybil Danning appeared as Warden Sutter in the 1986 film "Refor School Girls".
Sybil Danning later appeared as evil succubus Pamela Dare in the 1989 episode of "

Superboy", entitled "Succubus".
Community content is available under
CC-BY-SA
unless otherwise noted.