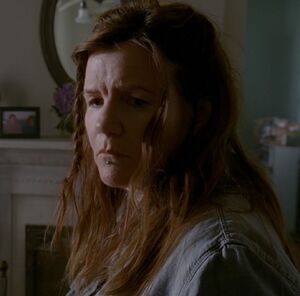 Alicia Spencer (Mare Winningham) was the villainess from "The Replacements," the third episode of American Horror Story: Coven (airdate October 23, 2013). She was the mother of Kyle Spencer, one of the season's main characters.
Alicia's villainous backstory reveals that after her husband (Kyle's father) left them, she began an incestuous relationship with Kyle. Early in the episode, Alicia was visited by Zoe regarding Kyle, with Alicia stating that she was on the verge of suicide upon hearing about Kyle's death (which was at the hands of Madison Montgomery). Kyle had been resurrected by Zoe and Madison, using the body parts of Kyle and his other fallen fraternity brothers, and he was sent back to Alicia by Zoe. Alicia was elated to be reunited with her son, but had noticed his physical differences.
It was later in the episode that Alicia's incestuous persona was revealed, as she laid next to Kyle in his bed and began kissing him, while placing her hand down his crotch as Kyle was crying. Later on, the evil Alicia confronted Kyle and demanded to know why he hadn't been talking to her (unaware that Kyle's resurrection had hampered his speech), while callously defending her abusive ways. The villainess attempted to seduce her son even more , only for Kyle to shove his mother away and scream, "NO!"; his first word since his resurrection. Kyle later grabbed a trophy from his shelf and bludgeoned Alicia to death.
Mare Winningham returned to American Horror Story as the evil Rita Gayheart in Freak Show.
Community content is available under
CC-BY-SA
unless otherwise noted.