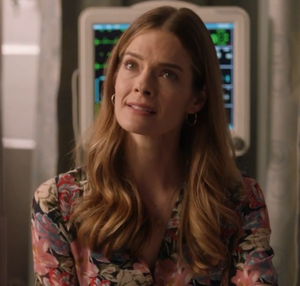 Alicia Kegel
 (Nicole Steinwedell) is a villainess from "Homefront," the antepenultimate episode of
The Rookie
's first season (airdate April 2, 2019). She is the wife of released convict Max Kegel.
The couple was shown together while Max was being hospitalized due to food poisoning, with Alicia portraying herself as being deeply in love with Max after meeting him during his prison sentence. She played up her loving demeanor during their encounter with officers Tim Bradford and Lucy Chen, but they would learn later on that Max wasn't suffering from food poisoning--he was being poisoned. Instantly, Alicia was suspected, and after Max informed the duo that Alicia made the batch of clams that resulted in his hospitalization, their suspicions were confirmed.
As it turned out, Alicia's love for Max was constant when he was behind bars, but his release came after it was revealed that his conviction was caused by a dirty cop. While Max was happy to see his wife, Alicia was turned off by her recently released husband, especially when Max's adoration became physical. Alicia turned heel afterwards by poisoning her husband's batch of clams, and after everything was revealed, the evil Alicia stated to Max that he wasn't supposed to be released, while adding that she snapped due to how "handsy and clammy" he was when he touched her. Following her confession, the villainess was handcuffed and arrested for attempted murder.
Community content is available under
CC-BY-SA
unless otherwise noted.