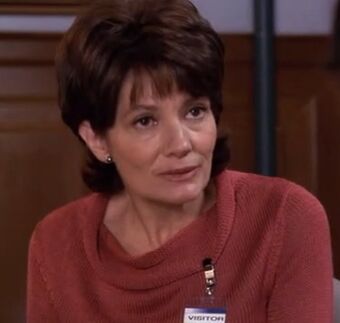 Alicia Gramble (Mary-Joan Negro) is the hidden villainess of "Acts of Mercy", episode 1.15 of Crossing Jordan (airdate February 4, 2002). She was a nurse and the wife of Dr. Arthur Gramble, who she worked alongside in his medical practice. Alicia was also revealed as a serial euthanizer, as she conspired with her husband to kill his terminal patients, with Alicia committing the murders.
Prior to the episode's events, Alicia killed Celia Brackett, administering potassium chloride to her before smothering her with a pillow. After Arthur was questioned by Dr. Jordan Cavanaugh, he was found dead in his office via poisoning. Daniel Brackett (Celia Brackett's son) was arrested for suspicion of killing Arthur, having been in his office with a gun watching a a tape of his mother consenting to her euthanasia when the body was discovered.
Soon after, Alicia came to see Jordan, revealing that she was Arthur's wife. She also revealed to Jordan that her husband had an inoperable brain tumor that was slowly killing him, and that she believed his death had been a suicide. When Jordan asked if Arthur had been euthanizing his patients (unaware of her complicity), Alicia denied the accusation and left. It was initially believed Alicia had made her statement to help Daniel, but as Alicia's guilt began to get uncovered, Jordan and her associates realized that she was really trying to cover up her involvement in the deaths of her husband and his patients. This was officially proven when Jordan saw that Arthur had been out of town for many of his murdered clients' deaths.
Jordan and Detective Woody Hoyt went with police to arrest Alicia, catching her as she was prepared to kill another terminal patient. As she was arrested for the deaths of Celia and Arthur, the evil Alicia proclaimed that what she was doing was "important work", while also revealing that her husband had been unable to directly participate in killing his patients. Right before she was taken away in handcuffs, Alicia revealed how the woman she had been a patient of Arthur's for five years and viciously asked if Jordan believed she was doing her a favor by stopping her from ending her life.
Community content is available under
CC-BY-SA
unless otherwise noted.