Wiki Targeted (Entertainment)
Play Sound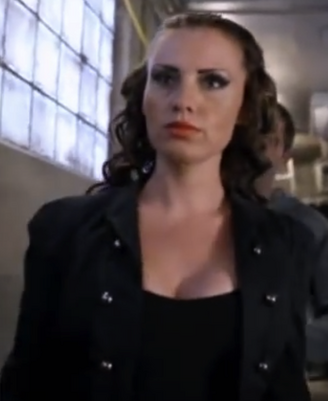 Alicia (Maria Donna Rudi Dahl) is a minor antagonist in the 2011 film "Code 207".
A criminal ring is kidnapping women and selling them to wealthy clients. They are also selling the womens organs. Alicia is a henchwoman that works for the main villain, Savage (Jack Dimich).
She handles the sedation of the girls when they come in. When some of the other henchmen get a little frisky with the women, she is not afraid to step in and put them in their place with her fighting skills and her long knife.
After they kidnap the wife of an Army Ranger Mack (Tino Struckman), their plans change dramatically, when he finds the abandoned Prison where they are being held.
A deadly cat and mouse game begins as he hunts them while trying to save the women from being sold and shipped away.
When Alicia heads back to Dimich's office and sees Detective Altmann (Cole Schaefer) stealing from the safe, a standoff ensues. Altmann has infiltrated the gang, and is attempting to take the ring down. Altmann tries to convince her to come work for him instead of Dimich. Both of them have their guns pointed at each other, until the power goes off.  Altmann is able to escape.  Alicia hides behind a doorway, and is shot through the wall from the other side by Altmann. As she is still suffering from the pain, Altmann tells her that things just weren't meant to be. Indeed - as it's him, who gets killed soon after.
Gallery