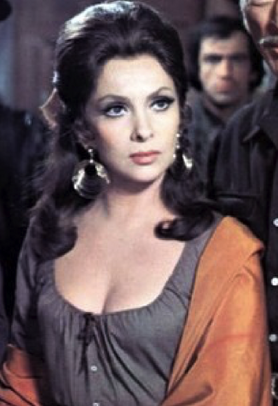 Alicia (Gina Lollobrigida) is the deceitful villainess in the 1971 Spaghetti Western Comedy "Bad Man's River", which was also known as "Hunt the Man Down".
Alicia is first seen aboard a train in the film when she cons bank robber Roy King (Lee Van Cleef) into marrying her.  She has him tied to a chair and steals his money.  She then has him committed to an insane assylum.  
Later she convinces King to help her blow up the St. Joseph Mission that has been turned into an arsenal by government troupes.  They team up together with her now husband, Francisco Paco Montero (James Mason), who is a Mexican politician.  The plan is to swindle the Mexican government out of one million dollars.
However, they are captured by a gang of revolutionaries led by Col. Enrique Fierro (Sergio Fantoni).  Fierro shows Alicia some attention, which is not appreciated by Fierro's love interest, the lovely Dolores (Diana Lorys).
Alicia and her gang must finesse their way past the revolutionaries, the Mexican Army and even Billy the Kid.
Once again Alicia doublecrosses King and takes the money in the end.  As the money is being handed over to them, they are robbed by Jesse James and she escapes with him.  She is last seen counting the money in a stagecoach along with her father.
​​​​
Community content is available under
CC-BY-SA
unless otherwise noted.