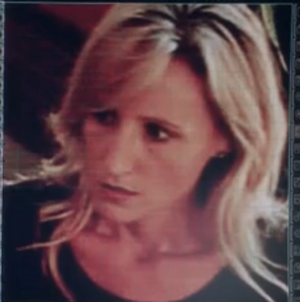 Alice Vanderbilt (Erica Vogelvang) was a villainess from "Class Action Satisfaction," episode 3.11 of Rizzoli & Isles (airdate November 27, 2012). She was an anesthesiologist who later became a lab tech at Rampvex Pharmaceutical Industries.
Alice lost her job as an anesthesiologist due to her drinking; she operated on patients while intoxicated and killed them as a result. Further details revealed that her medical license expired in 2009, and she hadn't renewed it since, but kept an open application. Alice longed to regain her prominence, as did Phil Taylor--who lost his job as a pharmaceutical executive and ended up distributing them. When Rampvex created a new flu vaccine, Alice and Phil colluded together in an insidious and lucrative plot.
As part of the plan, the evil Alice contaminated the vaccines and gave them to Phil to distribute. The plan was to create a class action lawsuit against Rampvex, and they elisted Alice's lawyer, Larry Bukowski, to represent any victims of the tainted vaccine. The villainess' actions led to the deaths of Lucy Cox and a man named Brian, who both died of bacterial meningitis. Following the deaths, Alice was encountered by Phil, who expressed shock over the deaths, stating that he didn't know that meningitis would kill people. 
Alice was revealed as a villainess while Jane Rizzoli was investigating Phil's death, which was later revealed to be caused by Larry, who poisoned Phil in response to Phil wanting out of the plan. After seeing a video of Alice with Phil, Jane went with Vince Korsak and Barry Frost to Alice's home to question her, only to find that Alice committed suicide via carbon monoxide poisoning.
Community content is available under
CC-BY-SA
unless otherwise noted.