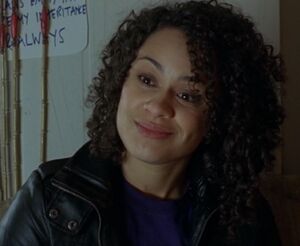 Alice Hill (Naomi Bentley) is the hidden secondary villainess from "Death of a Timeshare Salesman," episode 6.05 of New Tricks (airdate 13 August 2009). She is a former escort who was introduced as a witness to the murder of timeshare salesman Dean Scott.
Dean was found shot to death five years ago in an apparent suicide, but according to Alice's statement from a week prior to the episode's events, she spotted someone attempting to break into Dean's home on the night in question. Also, Alice revealed that Dean was a customer of hers that night and while she kept quiet about what she had witnessed, she stated to DSI Sandra Pullman and Gerry Standing that she decided to come forward due to having found God.
The episode's progression saw many of Dean's partners suspected, but their main focus was criminal Johnny Tevis, who was revealed to be having an affair with Dean's wife, Pamela. The investigation also revealed that Alice had lied about being at Dean's home on the night in question, as her prints were not at the house, and it was after Alice and Pamela were interviewed separately that UCOS learned that the women had ties to each other--ties that Alice denied during her interrogation. It was revealed that Dean had committed suicide, but Alice and Pamela colluded to label Dean's death as murder. The motive: Pamela was the beneficiary of Dean's life insurance policy, but regarding suicide, it would pay out if the suicide doesn't come within the first year. Dean killed himself just two months shy of the goal, leading to Pamela enlisting Alice to claim that she witnessed someone attempting to break into the house to turn it into a murder case.
As a result, the women would split the insurance benefits, as both were debted to Sergeyev, a loan shark. When asked who cooked up the scheme, the evil Alice refused to answer, but after everything was revealed, Alice was (assumingly) arrested (off-screen) for insurance fraud.
Community content is available under
CC-BY-SA
unless otherwise noted.