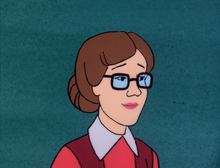 Alice Dovely was Ma and Pa Skillet's receptionist and book-keeper at the Skillet Showboat. She acted sweet and kindly to the Skillett's (even given her paycheck to help their business) building a parent-daughter relationship, but in reality was only doing this to get their soft drink product which would sell for a high price. She worked as a secretary to the president of Kookie Cola until she was fired. She then got a job at the Skillet Showboat, plotting her revenge. She dressed up as the Ghost of the Gator Ghoul to drive the Skillets out of business so she could get control of their product before it was bought out for a high price by Kookie Cola.
Community content is available under
CC-BY-SA
unless otherwise noted.