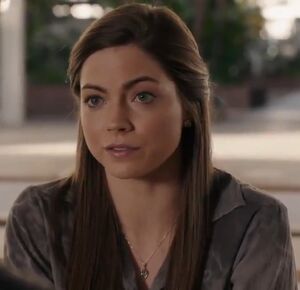 Alexis Palmer, aka Rheanna Ehrichs (Caitlin Carver), is the main villainess from "Lost and Found," the 15th episode of Stalker (airdate February 4, 2015).
Rheanna Ehrichs was born in April of 1993; the daughter of Monica Grant. Feeling that she was too young to be a mother, Monica gave up Rheanna for adoption, but Rheanna ended up in the system until she aged out. Rheanna searched for her birth mother until finding Monica shortly before the episode's events, only to discover that she had an adopted daughter, Jenny Kline.
Rheanna later posed as Jenny's best friend, while going under the name Alexis Palmer and hiding her real age to attend high school with Jenny. The main focus of her diabolical plan was to sabotage Jenny, which began with targeting Coach Baker and making it appear that Jenny and Baker were hooking up. After both girls found Jenny's boyfriend, Emmett Beaudry, with Jenny's rival, Dierdre, Alexis shoved Emmett down a hill, which resulted in him breaking his collarbone. At this point, Alexis' twisted plan works, as the rest of the school thinks that Jenny attacked Emmett due to being scorned. Even so, the evil Alexis later caused more damage to Jenny's reputation by sleeping with Coach Baker and having the tryst recorded. The recording had Baker calling his lover "Jenny," and Alexis later gave the flash drive to Dierdre, knowing that she would publicize it for payback.
While Jenny's world was crashing down, Alexis portrayed the role of a supporting friend and even help Jenny run away from school and home. After this, Alexis returned to Monica's home and revealed herself as her birth daughter, but the reunion turned sour when Alexis became angry and accused Monica of replacing her with Jenny. Jenny's return to the house further enraged Alexis, who attempted to kill Jenny with one of her trophies. The girls' scuffle resulted in both of them falling down the stairway, with both girls surviving. After Beth Davis' squad and 911 was called to tend to Jenny, Beth stated to Jenny and Monica that Alexis would be arrested and placed in a psychiatric facility.
Caitlin Carver also played villainess Becca Arrington in the 2015 film, Paper Towns, and later appeared as the evil Rachel Richards in 2017's The Rachels.
Alexis Palmer is similar to Blake Noland, the villainess from Lifetime's The Wrong Nanny. Both were young women who were given up by their birth mothers, only to go on an obsessive quest to form a mother-daughter reunion. A glaring difference is that Blake committed murder in her quest; Alexis never (successfully) did.
Community content is available under
CC-BY-SA
unless otherwise noted.