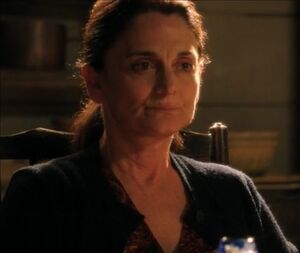 Alexa Comescu
(Cristine Rose) was a recurring villainess from
NCIS:  Los Angeles
. She is the matriarch and head of the Comescu crime family.
Backstory
Edit
As revealed by Alexa herself in the third season opener, "Lange, H.," the Comescus had been in a brutal family war against the family of Agent G. Callen. It began after World War II, when Callen's grandfather, an agent of the OSS (now CIA), sought after and killed Alexa's grandfather. Alexa's grandfather was a collaborator for the Nazis, but despite this, the Comescus sought vengeance on Callen's family over his death.
The feud spanned three generations, with Alexa's father vowing to avenge his father's death. Leading to the events, Alexa herself carried on the vendetta and had sent her henchmen to kill Callen.
Alexa briefly appeared in the second season finale, "Familia," which had Hetty Lange in Romania seeking the family regarding Callen. Hetty informed Alexa that Callen was killed, but in the aforementioned following episode, "Lange, H.," Alexa exposed Hetty's deception, as she showed Hetty photos of not only Callen, but the rest of the NCIS crew. The villainess then revealed the entire history of their feud, while also demanding to know Hetty's reasons for appearing to her, with Hetty stating that she carried guilt over her failure to protect Callen's mother. In the episode's climax, the evil Alexa shot Hetty (she survived) and ended up in a confrontation with Callen. The confrontation also involved Agent Lauren Cooper, who later shot and killed Alexa to save Callen.
Community content is available under
CC-BY-SA
unless otherwise noted.