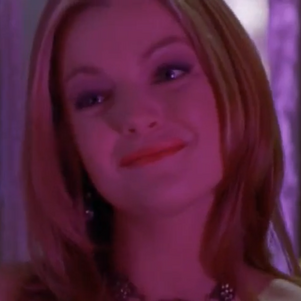 Alex Reynolds (Clare Kramer) is the minor villainess of "Drop Dead Gorgeous", episode 1.13 of Tru Calling (airdate March 18, 2004).
Alex Reynolds was a competitor in Julian Barnes Cosmetic's 5th annual "Miss Fresh Face" beauty competition, and the episode's beginning showed Alex being crowned the winner, much to her delight. But shortly afterwards, as Alex went backstage to freshen up, she came across the body of fellow contestant Jackie Connors. Tru Davies (the series protagonist) arrived at the scene shortly afterwards, and Jackie reaching out to her for help caused the day to rewind, allowing Tru the chance to save her.
Tru entered the competition as a way to help Jackie, and it was then that Alex's bullying and competitive nature was revealed, with Alex throwing insults at both Tru and Jackie. When Tru tried to tell Alex that losing the competition wasn't the end of the world, Alex rebutted by saying that she intended to win and use her victory as a platform to build a career in modelling.
Later on, though, it was revealed that prior to the contest, Alex had had an affair with Julian Barnes (who was serving as one of the judges on the contest) and videotaped the tryst in order to blackmail him into giving her the win. Her secret was initially uncovered by Jackie, who witnessed Alex and Julian arguing in her dressing room regarding the tape. In the episode's climax, Alex once again won the contest--and was shocked to learn that Julian's wife Adrian had poisoned her makeup remover with a pesticide in an attempt to kill her (this being the cause of Jackie's death originally). Afterwards, with her blackmail plot against Julian uncovered, Alex was disqualified from the competition and runner-up Angela Todd was crowned Miss Fresh Face.
Clare Kramer is best known for playing recurring villainess Glory on Buffy the Vampire Slayer.
Community content is available under
CC-BY-SA
unless otherwise noted.