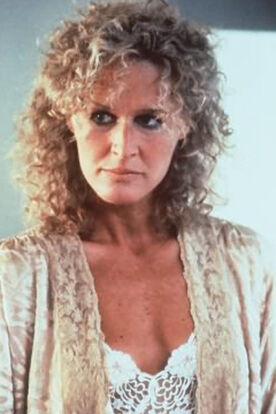 Alex Forrest
(Glenn Close) is the main antagonist in the 1987 thriller Fatal Attraction.
Dan Gallagher, the main protagonist, meets Alex Forrest and the two begin an affair while his wife and daughter are on vacation. When they come back he ends the affair, however Alex refuses to let go and does numerous things to force Dan into continuing their affair. She calls Dan but hangs up when his wife Beth answers. She tells Dan that she is pregnant with his child.
When their daughter gets a pet rabbit Alex sneaks into the house and boils the rabbit alive. She even kidnaps the daughter and takes her on a ride at a amusement park to scare Beth. She sneaks into the house once again in an attempt to murder Beth with a kitchen knife, but is fought off by Dan and is apparently drowned in the bathtub. When he's not looking, Alex suddenly rises from the tub, intending to murder Dan for nearly killing her. Before she can stab him, however, Alex is suddenly shot in the chest with a pistol by Beth, finally killing her. Her corpse is then taken away (off-screen) by the police.
"I'm not going to be ignored, Dan." Alex to Dan.
Glenn Close appeared as Cruella de Vil in the 1996 film, "101 Dalmatians" and again in the 2000 sequel "102 Dalmatians".
The original ending has Alex commits suicide and tries to frame Dan for her own murder, until acquitted by Beth, after finding a tape Alex had sent Dan full of verbal abuse and her threat to commit suicide.
Community content is available under
CC-BY-SA
unless otherwise noted.