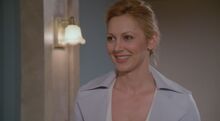 Alex/Florentine Swann is the hidden Evilbabe from the episode One Wedding and Val's Funeral  (S01 E04) of the Pamela Anderson series V.I.P. She is played by Natasha Pavlovich.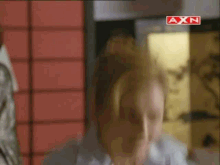 In this episode Valery Irons (Pamela Anderson) and her bodyguard agency protect a foreign prince. Valery wants to make a match between the prince and someone who comes from his home country. She meets the food delevery girl Alex who is a student and speaks the prince's language. The prince and Alex date several time an fell into each other. It is later revealed that Alex is a foreign agent named Florentine Swann who wants to kill the king. When Valery tells that the prince, he revealed that he planned all of this to become king. Alex kills 2 guards with a gun to reach the king. Before she can kill the king, Valery Irons appear and threatens her to throw a knife. Alex does not believe that Valery can use the knife and tries to shoot her. Valery throws the knife but then Valery pulls the carpet and Alex falls down.During her fall in slow motion, the camera takes a close show on Alexs ass and unter her short skirt. When Alex wants to get up, the others of Valerys team appear and point a machine gun at her. Next we see her handcuffed taken away by the police. During a conversation in the lobby she is seen in the background guarded by cops. She last confesses her love to the prince who is also arrested and both are taken away in different directions.
Community content is available under
CC-BY-SA
unless otherwise noted.