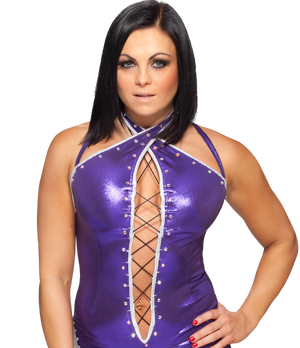 Aksana 
is a former professional wrestler and valet best known for her time in 
WWE
, where she portrayed a villainess.
Aksana debuted in WWE as one of the Diva contestants on NXT in 2010, and was paired up with Goldust as her pro, Their relationship turned romantic when Aksana was facing deportation back to her native Lithuania. To keep her in the US, Goldust married her, but when it came time to kiss the bride, Aksana turned villainous and slapped Goldust. A week after the wedding, the evil Aksana later stated that she didn't love Goldust and the only reason why she married him was to stay in the US. Shortly afterwards, Aksana was eliminated from the NXT competition.
Aksana returned to WWE as part of the SmackDown roster in August 2011, portraying a love interest for GM Theodore Long. After Long lost his position as GM, Aksana turned heel and dumped him; later revealing that she was having a romantic affair with Antonio Cesaro. After that relationship ended, Aksana began aligning with the evil Eve Torres, after it was revealed that she donned a blonde wig and attacked Divas Championship contender Kaitlyn at Night of Champions in September 2012, leading to Eve replacing her and winning the Divas Championship. Aksana attacked Kaitlyn a second time at Survivor Series, but she was fought off. One night after Survivor Series, Aksana was defeated by Kaitlyn in a grudge match, and on Backstage Fallout, the villainess revealed her motive for attacking Kaitlyn, claiming that she was doing what she needed to do to get ahead.
In 2013,  Aksana aligned with Alicia Fox to form the duo commonly known as "Foxsana," and they feuded with the cast of Total Divas as well as Paige. Aksana's villainous role came to an end on June 9, 2014 when she was attacked by Alicia after she was defeated by Paige. Aksana was released by WWE on June 12, 2014.
Community content is available under
CC-BY-SA
unless otherwise noted.