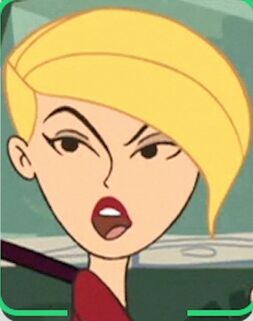 Adrena Lynn
is the main antagonist in the 2002 episode "All The News" for the TV series 
Kim Possible.  
She was voiced by Rachel Dratch.
Adrena Lynn is a TV stuntwoman who is known for doing dangerous stunts. However she is really just pretending to do all the stunts she claims to do. Her most famous catchphrase is "Freaky". Lynn is soon exposed as a fraud when she steals a blimp and uses a dummy to pretend to jump from the blimp blind folded. Rod writes article in the newspaper exposing her as a fraud. Lynn gets fired, and plans vengeance against Kim and Ron.
She was supposed to have more than one major appearance and be a foil for Kim Possible, but she wasn't popular enough with critics and she reduced to a One-Shot role, with her only appearance being "All The News" (and a cameo in Graduation)
Community content is available under
CC-BY-SA
unless otherwise noted.