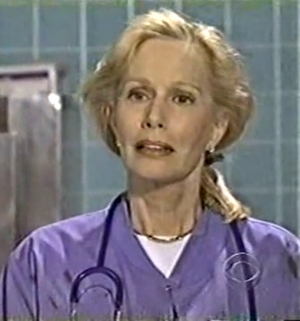 Adele Botsford
(Sally Kellerman) is the main villainess from
Diagnosis Murder
episode 5.15, "Drill For Death" (airdate January 22, 1998). She is a divorced nurse working at Community General during an emergency drill.
As revealed later on, Adele was married to a rich cardiologist, but split from him due to his numerous affairs; one of them being with ruthless nursing administrator Karin Hatcher. In the divorce settlement, Adele was left with no money, and only with a number of priceless paintings by famous eccentric artist Martin Beckman, who disappeared 12 years prior and resurfaced at the hospital undergoing chemo treatments under the name Art Amador.
Once Adele recognized Martin, she knew that the value of his paintings would vastly decrease due to him being alive. With that knowledge, Adele killed Martin by smothering him with a pillow, but her murderous act was witnessed by Karin. To silence Karin (and possibly out of revenge over Karin sleeping with Adele's husband), the evil Adele killed Karin by bludgeoning her with a water pitcher. Adele was caught when charcoal stains were found on her uniform at episode's end. After being revealed as the killer, Adele claimed that she didn't want to kill Martin, but she had no choice, and even referred to Karin as her friend. Adele was later arrested for double murder.
Sally Kellerman also played villainess Junie Cobb on Murder, She Wrote.
Community content is available under
CC-BY-SA
unless otherwise noted.