Wiki Targeted (Entertainment)
Play Sound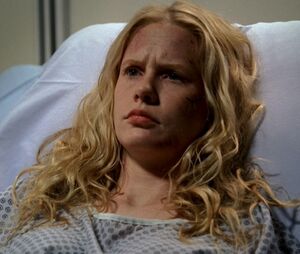 Abby Singer (Hillary Tuck) is the main villainess from "The Glowing Bones in the Old Stone House," the penultimate episode of Bones' second season (airdate May 9, 2007). She is the girlfriend of Ben Michaelson, and the couple co-owned Carly's Table, a restaurant, with friends Carly and Dan Victor.
Abby was introduced as the survivor of a car accident and a supposed robbery, as she claimed to Dr. Temperance Brennan and Seeley Booth that a masked assailant entered Abby's car and stabbed Carly to death before locking Abby in the trunk. Their investigation resulted in Ben being suspected, leading to the pair visiting Abby again and asking her if she recognized the mugger's voice, with Abby asking them if it was possible that Ben was the killer. However, the Jeffersonian group's look into Abby's injuries in the accident led to the true killer: Abby herself.
As it turned out, Abby found out that Ben and Carly were having an affair, with one of their trysts occurring in the backseat of Abby's car. During the drive, Abby turned heel by stabbing Carly to death with a ceramic knife in a fit of rage, and following the accident, the villainess dumped Carly's body in the stone house and destroyed the weapon. Abby later drove the car into a ravine and locked herself in the trunk, doing so to pose as an innocent crash survivor when she was found. The episode's final scenes showed Brennan and Booth confronting Abby, with the villainess sobbing and screaming that Carly was her best friend. Afterwards, the evil Abby ended up arrested (off-screen) for Carly's murder.