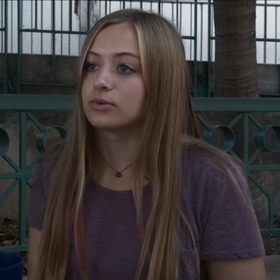 Abby
 (Emily Meints) is the hidden villainess of 
The Blind Death
, a short horror-comedy film released by
Campus Movie Fest
(released in October 2018). She was introduced in the film going on a blind date with Trevor, who the film's opening revealed was a serial killer targeting Abby as his next victim.
After arming himself with knives, Trevor met Abby at a restaurant, with the two having small talk, with Trevor nearly revealing his villainous secret by saying he came to San Diego for "the prey" and imagining Abby asking him if he was going to kill her when she was actually asking if he wanted to check out the menu. After Trevor said he would, Abby excused herself to use the restroom.
Once there, Abby looked at herself in the mirror before pulling a knife from her purse, where she was shown carrying a plethora of similar weapons. This served as Abby's reveal as another serial killer, likely having accepted Trevor's date invitation as part of a plan to kill him. After inspecting the knife, Abby put her weapon away and put on lip balm (becoming frustrated when she dropped the tube into the sink) before returning to the table.
During the meal, Abby similarly mistook Trevor asking if she was ready to leave for him asking if she was going to kill him as she gave stared intently at her purse, quickly agreeing she was ready before leaving the restaurant with Trevor. As they were leaving, Trevor began his plan to kill Abby by shoving her to the ground, only to be perplexed when her collection of weapons fell from her purse. Trevor was first surprised by Abby's plan to kill him before getting into a fight with her, with the evil Abby hypocritically chastising Trevor for asking her out solely to kill her, with Trevor claiming it was Abby who asked him out. As Abby prepared to leave, Trevor attempted to help her pick up her knives, only for the two killers to instead move to attack each other after each picked up a knife. The film ends without revealing the fates of either Abby or Trevor.
Community content is available under
CC-BY-SA
unless otherwise noted.